Twin Cities Pool Liner Installation Services
For more than 35 years, Sundays Off Pools Inc. has offered superior pool liner replacement services in the Minneapolis / St. Paul area. If you are in need of a new pool liner, do not hesitate to contact us online or call 763-546-1651.
Our Pool Liner Replacement Process:
How can we help with your swimming pool liner?
We will ensure the proper fit and correct installation on your new liner. We offer 20, 28 and 30 mil thick liners in a wide variety of patterns and colors. Choose from vinyl liners by Plastimayd, GLI, TVP and Merlin. All liners are made in the USA. Experience the appearance and feel of a new pool.
To find out more about how Sundays Off Swimming Pools can help you with your swimming pool needs, please contact our office at 763-546-1651 or Contact Us for more information.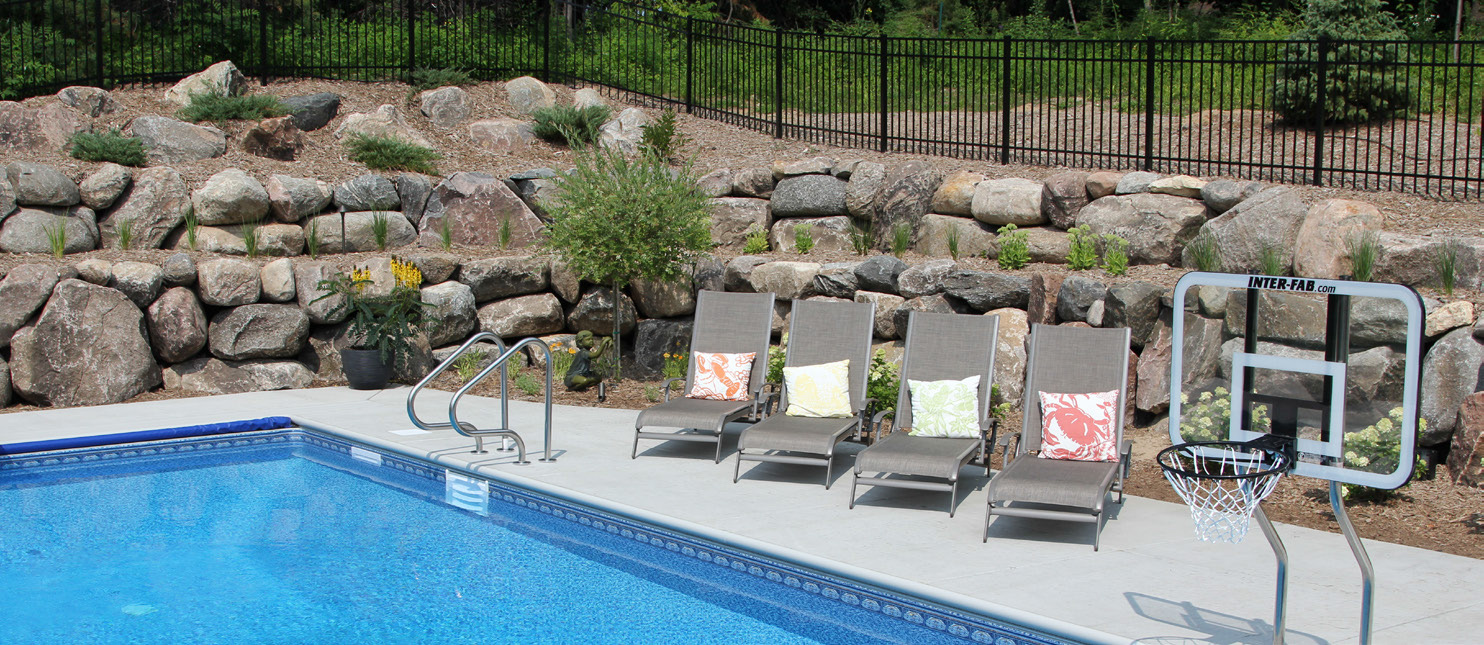 Whether you're in the market for a new swimming pool or want to keep your current one in great shape for years to come, a pool liner is an economical way to extend the life of a pool. Pool liners help owners maintain their pools by limiting damage to the pool surface and preventing mold. Pool liners are simply a custom made sheet of vinyl installed between the water and the pool structure.
The swimming pool liner you buy is strongly informed by the type of pool you own. In-ground pool liners, as well as above ground pool liners are usually easy to clean and help to maintain the clarity of your pool water. If you're installing a new vinyl liner or replacing your pools existing liner, there are many options to choose from. All liners are built to the exact specifications of your pool and most are available in 20Mil and 30Mil thicknesses, ensuring long life and durability.
As durable as pool liners are, they should still be replaced every 8-12 years. The harsh chemicals used to treat the water and the weather can cause the liner to deteriorate over time. The liner may begin to sag, shrink or crack causing water loss. You may notice your liner fading or, if the water isn't being properly treated, you may begin to see stains caused by algae or rust. Also, replacing the liner is always necessary if you move your above ground pool. Once the pool has been drained and the water is no longer keeping the vinyl layer stretched, years of weather and chemicals quickly catch up to the liner and cause it to shrink.
A new pool liner can completely change the look of your swimming pool. There are a wide range of styles of above ground and in-ground pool liners so you should select your new liner carefully. When you're finished and the pool is filled, all your neighbors will marvel at the sight of your beautiful new pool.